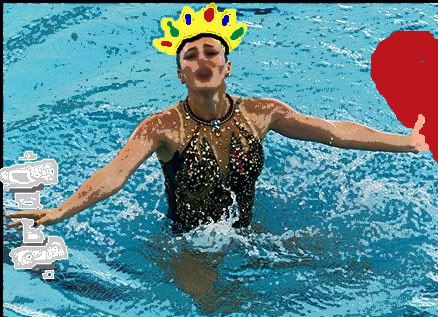 I'm not worthy...  but thank you, thank you, for this honor  ;

-

)
Today at the pool it was a beautiful morning.  The water felt SO good and I was ready to get a great workout in.  Powered through various laps, worked the weights and board.  Back to some more various laps. Next, stopping at the end of the lane to do some tucks with weights.  A man that had been in the hot tub was squatting down and greets me with...  you are the Queen of the water aerobics!  Well, that's a first.  A nice one, you never know what someone is going to say at the pool.  Some of the guys sit in that hot tub way to long.  I'd thought he just wanted to share the lane at best.  He chatted about a sort of class that meets twice a week he thought I might like (They also do lap type work, not slower lower impact.  You work a bit more on your own in it than the others).  The timing of them stink though, that is the problem with most classes.  Not sure I want the crown.  That would mean every work out needs to be of royal effort.  The pressure.  What if I was caught just noodle floating?  
The horror.
B banana and cherries, ice tea
S none
L chicken breast and pineapple skewers drizzled w/teriyaki over baby spinach, ice tea
S
*oops*
some of my son's M&Ms at the movie, water
D none
S (after gym) cabbage crunch, slice of ww flaxseed bread with meat sauce, ice tea 
________
(morning)
pool 60 min.
(evening)
track 30 min.
stationary bike 30 min.
elliptical 20 min.