This Sunday's weigh in has the numbers heading two pounds down. One more and I will be back at last December's weight.  The waist measurement has stuck for a long time, BUT the others were where the increase was showing.  It goes to the upper arms, thighs, chest and back.  This week is showing changes for the better again in those areas.  Did not have to do the
Stretch the freshly washed jean squats
 so the thigh sections are not skin huggers this morning.  
Why The Weight 
has a post for Operation Beautiful and in it these two bits screamed to be passed on.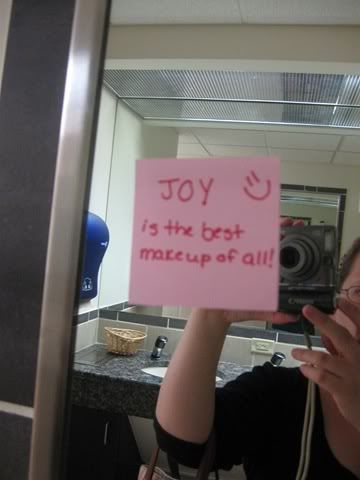 Really glad to find the site at this time.
B slice of ww flaxseed bread, ice tea
S none
L (late) sm salad, a chicken shish kabob (green pepper, onion and tomato), ice tea
S none
D none
S banana, ice tea
__________
(evening)
track 30 min.
weight machines
stationary bike 30 min.
yoga (at home) 30 min.